Regular price
€400,00 EUR
Regular price
Sale price
€400,00 EUR
Unit price
per
Sale
Sold out
The Magnostics M96D-400 magnetic Separator is designed for medium-throughput purification of nucleic acids using Magnostics Aurosphere beads in deep-well 96 plates. Our separator uses an array of powerful magnets to achieve rapid and efficient separation. During the washing and elution steps, the initial homogeneously dispersed Magnostics Aurosphere beads are rapidly separated into two pellets on one side of deep-wells, that allow for long pipette tips to thoroughly remove the buffer solution and minimize the operators error to ensure a convenient and high efficient separation.

Magnostics Aurosphere beads excel in performing demanding separations from viscous samples, e.g. virus lysis buffers for RNA extraction, sputum, serum or whole blood, or in large volume applications where efficiency matters. The uniformity of these particles also makes them ideal for magnetic tweezers experiments.
Features
Superior separation efficiency
Rapid separation times – Magnostics Aurosphere beads in 20-240 sec (depending on samples)
Optical ports to monitor separation efficiency
Neodymium magnets
Anodized alumimum and stainless steel
Chemical resistant
Compact footprint - 132 mm x 90 mm x 28 mm
Weight:250g
Specifications
Volumes/well
25-800 μL
Bead compatibility
Superparamagnetic or paramagnetic
Separation times
20-240 seconds (depending on samples)
Optical port diameter
7 mm
96-well plate compatibility (not limited)
Sarstedt Deep Well, Sarstedt Deep Well  MegaBlock®, 96 wells
Part Number
M96D-400
.
TYPICAL APPLICATIONS
Nucleic acid purification
Colorimetry
Fluorimetry
Share
View full details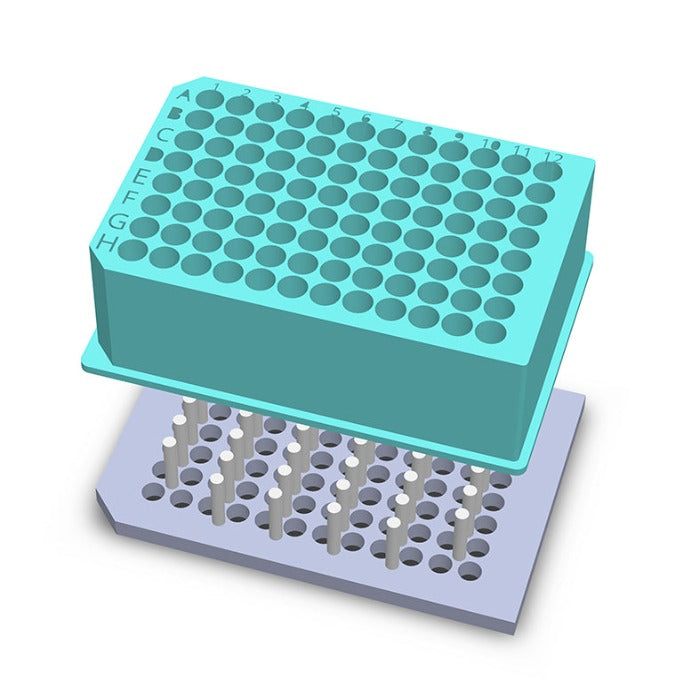 Customize magnetic beads for your research
Our  Aurosphere® superparamagnetic beads are highly customizable and we can adapt them specifically to our customer's needs. Please get in touch with us so we can discuss your specific requests.